Author Saul Bellow Dies at 89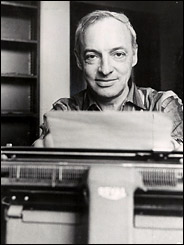 posted 2005-04-05 20:22:32 by stevemay





Boston -- Nobel laureate Saul Bellow, a master of comic melancholy who in "Herzog," "Humboldt's Gift" and other novels both championed and mourned the soul's fate in the modern world, died Tuesday. He was 89.
Bellow's close friend and attorney, Walter Pozen, said the writer had been in declining health, but was "wonderfully sharp to the end." Pozen said that Bellow's wife and daughter were at his side when he died at his home in Brookline, Mass.
Bellow was the most acclaimed of a generation of Jewish writers who emerged after World War II, among them Bernard Malamud, Philip Roth and Cynthia Ozick. To American letters, he brought the immigrant's hustle, the bookworm's brains and the high-minded notions of the born romantic.
"The backbone of 20th-century American literature has been provided by two novelists -- William Faulkner and Saul Bellow," Philip Roth said Tuesday. "Together they are the Melville, Hawthorne, and Twain of the 20th century."
He was the first writer to win the National Book Award three times: in 1954 for "The Adventures of Augie March," in 1965 for "Herzog" and in 1971 for "Mr. Sammler's Planet." In 1976, he won the Pulitzer Prize for "Humboldt's Gift." That same year Bellow was awarded the Nobel Prize in literature, cited for his "human understanding and subtle analysis of contemporary culture." In 2003, the Library of America paid the rare tribute of releasing work by a living writer, issuing a volume of Bellow's early novels.
In spite, or perhaps because, of all the praise, Bellow also had detractors. Norman Mailer called "Augie March" a "travelogue for timid intellectuals." Critic Alfred Kazin, a longtime friend who became estranged from Bellow, thought the author had become a "university intellectual" with "contempt for the lower orders." Biographer James Atlas accused Bellow of favoring "subservient women in order to serve his own shaky self-image."
Old-fashioned, but not complacent, the author strove to ward off the "Nobel curse," to be softened by literature's highest honor. He kept writing into his 80s and, hoping to make his work more affordable, had his novella "A Theft" published as a paperback original in 1989.
His recent works included "The Actual," a sentimental novella published in 1997, and "Ravelstein," a 2000 novel based on the life of his late friend, Allan Bloom, author of "The Closing of the American Mind." Also in 2000, Bellow was the subject of Atlas' acclaimed biography.