Frank Perdue dead at 84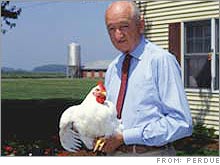 posted 2005-04-01 12:39:17 by pinenut





Man whose name became synonymous with chicken dies following a brief illness.
NEW YORK (CNN/Money) - Frank Perdue, the Maryland farmer who revolutionized the poultry industry and gave chicken a brand name, died Friday following a brief illness at the age of 84.
At the time of his death, Perdue was chairman of the executive committee of the board of Perdue Farms Inc., the company said in a statement.
The hands-on CEO became well-known as a company spokesman, appearing in radio and print ads and some 200 television commercials. Among his memorable lines: "It takes a tough man to make a tender chicken."
Over his career, Perdue transformed a family backyard egg business into the nation's fourth-largest integrated food processor. When he became president of Perdue Farms Inc. in 1952, the company was averaging revenues of $6 million, and exceeded $35 million by 1967.
"The prime ingredient of success is fear," he told the Washington Post in 1975. "I'm talking about the kind of fear that made me thorough. You should have enough fear to always second-guess yourself."
The only child of Arthur W. and Pearl Perdue, Franklin Parsons Perdue was born in 1920 in Salisbury, Maryland. His father Arthur gave up his job as a Railway Express agent and, with the help of his wife, raised 50 Leghorn chickens that he bought for $5.
The venture grew, and the family sold enough eggs to stay out of debt and prosper, even through the Depression.
Frank Perdue worked the family business, went to classes in a one-room school house until he attended Salisbury High School, and then Salisbury State College. A mediocre student, he left after two years and returned to the family farm.
Although he insisted that his success was due to a superior product, many believe the company's success was due to its advertising.
He spent $50,000 in 1968 for radio ads to bring the previously anonymous fresh poultry industry to the public, making his name synonymous with chicken.
In 1971, with characteristic thoroughness and with a preparation of months of reading and research, he chose New York advertising firm Scali, McCabe, Sloves Inc. to help him deluge the New York area with radio, television, newspaper and subway ads that featured him giving customers direct quality assurances.
In one ad he said, "If you're not completely satisfied with my chicken, you can always write to me -- the president of Perdue -- and I'll give you your money back. If you buy some government-approved chicken, and you're not completely satisfied, who do you write? The President of the United States? What does he know about chickens?"
"In one month alone some 10,000 New Yorkers contacted Perdue for a list of stores selling his chickens, while 22,000 customers who have written him to praise, criticize, or satisfy their curiosity about his business have received his free 59-page cookbook," Business Week reported after the first round of ads.
Scali, McCabe, Sloves Inc. won several awards for the Perdue marketing spots.
Perdue is survived by his third wife, Mitzi Ayala Perdue, four children, two stepchildren and 12 grandchildren.