Former Steelers Star Suffocated By Barbell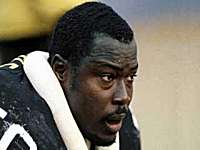 posted 2005-03-24 08:36:27 by doug





PITTSBURGH -- Former Pittsburgh Steelers Pro Bowler David Little, who led one of the NFL's most experienced linebacker corps in the 1980s, died while weightlifting at home in Miami. He was 46.
Little was lifting weights Thursday when he had a heart arrhythmia, causing him to drop a 250-pound barbell on his chest, which rolled onto his neck and suffocated him, according to the coroner.
Little was found by his sons, David Jr. and Darien.
The University of Florida graduate played his entire 12-year career in Pittsburgh after being taken during the seventh round of the 1981 NFL draft.
Little started 125 of the 179 games he played for the Steelers and once played 89 consecutive games. He was voted to the Pro Bowl in 1990, three years before he retired.
His older brother, Larry Little, was an All-Pro guard for the Miami Dolphins.
Little is also survived by his wife, Denise, his mother, daughter and four sisters.