The Searchers drummer Curtis dies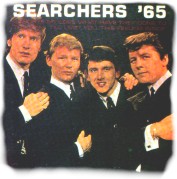 posted 2005-03-01 14:43:06 by doug





LONDON, England -- Chris Curtis, drummer with 1960s "Merseybeat" combo The Searchers at the height of its fame, has died, colleagues said Tuesday. He was 63.
Band members said Curtis, whose real name was Christopher Crummey, was found dead at his home in Liverpool on Monday after a long illness. The exact cause of death was not disclosed.
Formed in the same rough-and-ready Liverpool club scene as The Beatles and named after a John Ford Western, The Searchers briefly rivaled the Fab Four for popularity. After The Beatles' success made Liverpool acts a hot property, The Searchers were signed by Pye Records.
The band scored international hits with "Needles and Pins," "Sugar and Spice" and "Don't Throw Your Love Away." Curtis played drums and contributed to the band's distinctive vocal harmonies.
Original Searchers bassist Tony West said Curtis "was the epitome of the group itself."
"He contributed an awful lot to the vocals and the harmonies -- his was the distinctive high voice. He was also a very good drummer.
"I will remember him as full of life and enthusiasm. Although he left the band, he never fully left the musical scene."
Curtis left The Searchers in 1966, but the band carried on, with several lineup changes. In recent years members had engaged in acrimonious legal battles over the right to the group's name.
Curtis scored a British hit in 1967 with The Flowerpot Men with "Let's Go To San Francisco." He later joined Roundabout, which evolved, after his departure, into hard rock behemoths Deep Purple.
Curtis eventually worked as a civil servant until he was forced to retire by poor health.
There was no immediate word on survivors or funeral details.