Actress Sandra Dee dead at 63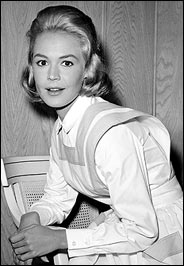 posted 2005-02-20 15:04:47 by beth





LOS ANGELES, California -- Actress Sandra Dee is dead at 63, her son told CNN Sunday.
Dodd Darin, the son of the late singer Bobby Darin and Sandra Dee, said his mother died at 6 a.m. (9 a.m. ET) in Los Robles Hospital & Medical Center in Thousand Oaks, California, where she had been treated for 14 days for complications from kidney disease and pneumonia.
Darin said his mother was 63, though a number of movie Web sites put her birth date variously at April 23, 1942, and April 23, 1944, which would have made her 62 or 60.
Dee was born Alexandra Zuck in Bayonne, New Jersey. Her mother often lied about her age to help her get ahead in work and school, according to the Web site Internet Movie Database.
Work as a model by age 12 led to television commercials and, at age 14, a role in the movie "Until They Sailed," which was released in 1957, the site said.
The next year she was signed to "The Reluctant Debutante" and "The Restless Years."
In 1959, the teenage heartthrob won roles in five productions. "Gidget" and "A Summer Place" proved the most popular.
In 1960, she appeared in "Portrait in Black" and married Darin.
In rapid succession came roles in "Come September," "Romanoff and Juliet," "Tammy Tell Me True" and its 1963 sequel, "Tammy and the Doctor."
But the latter films fared poorly and the offers began to wane.
For the next few years, she did one movie per year: "I'd Rather be Rich" in 1964, "That Funny Feeling" in 1965, "A Man Could Get Killed" in 1966, "Doctor, You've Got to be Kidding" in 1967 -- the year she and Darin divorced -- and "Rosie!" in 1968.
Her movie career was largely finished by the time she was 26, according to the Web site's biography.
In 1970, Sandra won a role in "The Dunwich Horror" and, during that decade, made four television movies.
As her star diminished, she battled anorexia, alcoholism and depression, the Web site says.
Her last film, "Lost," was produced in 1983.
Dee was diagnosed with throat cancer and kidney failure in 2000. She is survived by her son and two granddaughters, Alexa and Olivia, according to the Web site.
She was portrayed by actress Kate Bosworth last year in "Beyond the Sea," which starred Kevin Spacey as Bobby Darin.