'Tell Laura I Love Her' singer dead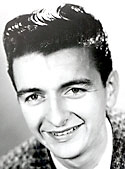 posted 2005-01-28 10:05:10 by stevemay





NASHVILLE, Tennessee -- Ray Peterson, whose 1960 hit "Tell Laura I Love Her" exemplified the teen tragedy song popular in early rock 'n' roll, has died. He was 65.
Peterson, who was known as "The Golden Voice of Rock 'n' Roll," died Tuesday at his home in Smyrna, a Nashville suburb, officials at Woodfin Memorial Chapel said. He had been suffering from cancer.
Peterson's version of "The Wonder of You" reached the top 30 in 1959, and Elvis Presley later hit the pop charts with a cover version.
But Peterson's signature hit was "Tell Laura I Love Her," which reached No. 7 on the Billboard chart.
The recording was a best-selling example of the "teenage tragedy" subgenre that included "Teen Angel" and "Leader of the Pack."
"Corrina, Corrina" was Peterson's last major commercial success, but he toured for years after. He opened for the Beach Boys in several foreign countries and was a supporting act on their "Summer Safari" tour of 1964.