Patsy Rowlands Dead at 71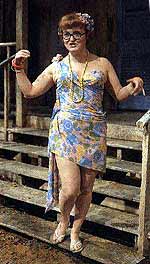 posted 2005-01-26 11:50:37 by arnoldam





LONDON -- Actress Patsy Rowlands, a stalwart of the British "Carry On" comedy films, has died at the age of 71, her agent said Tuesday.
Rowlands, who had been suffering from breast cancer, died Saturday at the Martlets Hospice in Hove, southern England, Simon Beresford said.
The actress gained worldwide fame after featuring in nine of the perennially popular, often vulgar "Carry On" series, including "Carry On Doctor," "Carry on Matron" and "Carry On At Your Convenience."
But she also had a solid history of theater roles and was acclaimed for her performance as Betty, Sid James' dizzy neighbor in the TV series "Bless This House."
Other film credits included the landlady in "Tess" for director Roman Polanski and Tony Richardson's "Tom Jones" and "A Kind of Loving."
"She was from the old school — she had skills from musical theater and high drama, that is why she worked with the great and the good of directors," Beresford said.
Rowlands won a scholarship to the Guildhall School of Music and Drama at the age of 15 and began her career at London's Saville Theatre in Sandy Wilson's play "Valmouth."
Other appearances in London's West End included in David Turner's "Semi-Detached" with Laurence Olivier, "Shut Your Eyes and Think of England" with Donald Sinden, "The Seagull" directed by Lindsay Anderson, and "The Pied Piper" and "The Wind in the Willows," both at the National Theatre in London and directed by Nick Hytner.
Her musical credits included playing Jack's mother in Stephen Sondheim's "Into the Woods," the duchess in Mike Ockrent's production of "Me and My Girl," and a role in Sam Mendes' production of "Oliver!" at The London Palladium theater.
Among her television appearances were "Supergran" with comedian Billy Connolly, "The Little Princess," "The History of Mr. Polly" and more recently "Vanity Fair" for the BBC.
Divorced, she is survived by her son, Alan.
Beresford said her funeral would be private with a public memorial service later.