Alvin Stardust dies aged 72 after short illness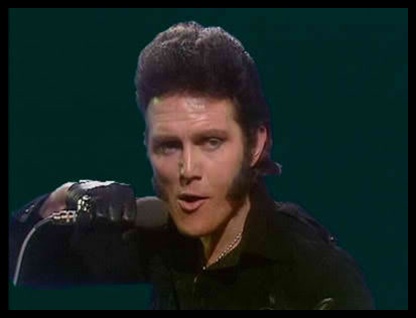 posted 2014-10-23 08:11:39 by tboz





Pop singer best known for 1970s hits such as My Coo Ca Choo was recently diagnosed with metastatic prostate cancer
Alvin Stardust, the quiffed, leather-clad pop singer best known for 1970s hits such as My Coo Ca Choo, has died aged 72 after a short illness, his manager has said.
The singer, who later enjoyed success in musicals, had been due to release his first album in 30 years next month. He was recently diagnosed with metastatic prostate cancer and died at home in West Sussex with his wife and family around him, it was announced.
His manager, Andy Davies, said: "Alvin and I had only started working together over the last couple of years because he and I believed that, musically, he still had a great deal to give and explore, and so we recorded an album that is a testament to an artist who gave his career to music.
"I may not have known him long but even in that short time he proved to be one of the most genuine and likeable men I've ever met. His passing is a huge and sad loss."
Born Bernard Jewry in north London in 1942, Stardust's introduction to pop success was sudden and bizarre. As a teenager in Mansfield, where he grew up, he became a friend and occasional road crew member for a young rock group, Shane Fenton and the Fentones. The band had sent off a series of demo tapes before the titular Shane, in real life 16-year-old Johnny Theakstone, suddenly died of a heart condition caused by a childhood illness.
The band broke up, but when a letter arrived from the BBC asking them to record a demo, Theakstone's parents asked Jewry to join a reformed group as Shane Fenton in tribute to their son. They won a record deal and in 1961 had a first hit, I'm a Moody Guy.
The band had some intermittent chart success, but interest waned, and by 1970 Jewry was living in Liverpool with his wife and baby son when he received a summons from Michael Levy, the pop impresario who, as Lord Levy, was later a close friend of Tony Blair.
A songwriter for Levy's record label, Peter Shelley, had written My Coo Ca Choo and wanted a distinctive performer to front it. Between them the pair created the Alvin Stardust name and persona, dressing their charge in leather and telling him to appear mean and surly, as a counterpoint to the glam image popular at the time.
According to a subsequent article by Levy, while Stardust could sing well it was actually Shelley's voice used on the recording of the first hit.
According to Stardust's official web biography, he had to hurriedly dye his hair black before an initial Top of the Pops appearance, in the process staining his hands and necessitating the leather gloves which became a key part of his look.
After My Coo Ca Choo, the singer had a 1974 No 1 hit with Jealous Mind, and enjoyed more than a dozen hits into the 1980s. Despite his initially menacing image, Stardust attracted a big following among young people and later fronted a popular road safety advertisement.
He later took a number of roles in musical theatre, including as the child catcher in Chitty Chitty Bang Bang, and on television shows including Hollyoaks and Doctors.
Stardust had been due to release his first album since 1984, called Alvin, at the start of November.