George McGovern, liberal standard-bearer against Nixon in '72, dies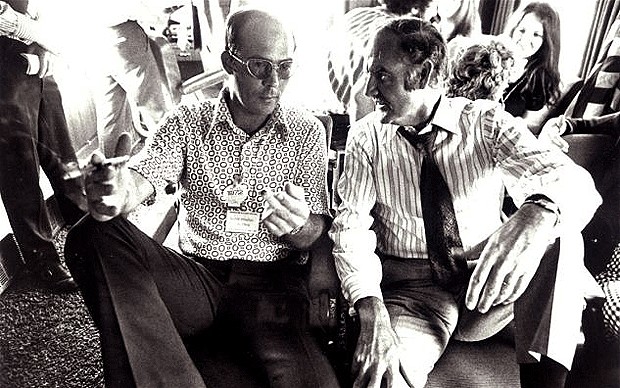 posted 2012-10-21 09:37:02 by DaveM





Democrat George S. McGovern, a war hero who opposed the Vietnam War, was crushed by President Richard Nixon's Watergate-tainted campaign. A die-hard idealist, McGovern inspired scores of budding politicians.
George S. McGovern, an icon of American liberalism who campaigned for the White House with moral fervor against President Richard M. Nixon and the Vietnam War but lost in a thundering landslide, has died. He was 90.
A spokesman for McGovern's family, Steve Hildebrand, told The Associated Press by telephone that McGovern died at 5:15 a.m. Sunday at a hospice in Sioux Falls, surrounded by family and lifelong friends.
A three-term U.S. senator from South Dakota, McGovern won the Democratic presidential nomination in 1972. His hard-fought campaign against Nixon and the war in Southeast Asia attracted millions of angry, anti-Establishment voters, including women and minorities, long-haired students and buttoned-down idealists.
He chose Sen. Thomas Eagleton of Missouri to be his vice presidential running mate without knowing that Eagleton had a history of depression. When the revelation caused criticism, McGovern dumped him, only to end up looking fickle. He also fell victim to some of the transgressions of Watergate, the scandal that ultimately forced Nixon to resign. But public outrage came too late, and McGovern suffered one of the biggest defeats in U.S. history.
Photos: George McGovern | 1922-2012
His campaign left a significant legacy, including his proposals, since fulfilled, that women be appointed to the Supreme Court and nominated for the vice presidency. He inspired scores of budding politicians: Bill Clinton was his Texas coordinator before becoming governor of Arkansas, then president. Gary Hart was his campaign manager before becoming a senator from Colorado, then a candidate for the White House.
McGovern was a die-hard idealist. His electoral loss embittered him, but not for long. He never abandoned his optimism or his faith in humanity. Neither did he give up his devotion to liberalism or what colleagues called his extraordinary sense of decency.
George McGovern was born July 19, 1922, in a parsonage in Avon, S.D., and grew up in Mitchell. His father was a fundamentalist Methodist minister and a political conservative.
McGovern enrolled at Dakota Wesleyan University and married classmate Eleanor Stegeberg on Oct. 21, 1943. But within months, he left to fly a B-24 in World War II. On his bunk, he read philosophy and history. The books broadened him, and he came home, he said, wanting to know more about "the nature and destiny of man, about the adequacy of our contemporary value system and the capacity of our institutions to nurture those values."
He also returned a hero. On one of 35 missions against Nazi targets in Europe, he took hits that blew out most of the nose of the plane and wounded a gunner. Shrapnel cut the hydraulic brake and electrical lines. He ordered his crew to crank down the landing gear and tie parachutes to girders just inside the rear hatches. He landed and released the parachutes. Not a life was lost. McGovern was awarded the Distinguished Flying Cross.
After the war he returned to Dakota Wesleyan, then entered Garrett Theological Seminary in Chicago. He liked preaching, but the counseling and ceremonies that were part of ministry held little appeal. So he switched to Northwestern University and history.
He read Hegel, then Walter Rauschenbusch, a noted advocate of what was called the social gospel. To McGovern, it meant applying the idealism of Christianity, and it became his secular belief. He supported the Progressive Party's Henry Wallace for president in 1948. But, according to Robert Sam Anson's "McGovern: a Biography" (1972), McGovern grew disillusioned by fanaticism among Wallace's supporters, so he became a Democrat. He opposed the Korean War and favored recognition of the communist government of Beijing. He earned a doctorate in history and returned to Dakota Wesleyan to teach.
"The principal reason I wanted to move from the classroom into politics [was] that I felt I could influence the course of history more directly," Anson quotes McGovern as saying.
In 1956 he ran for Congress and became the first Democrat from South Dakota to be elected to the House of Representatives in 22 years. After two terms, he ran for the Senate in 1960, but lost.
Newly elected President John F. Kennedy asked McGovern to open an agency to send surplus food abroad. By late 1961, McGovern had Kennedy's Food for Peace program operating in a dozen countries. It was one of McGovern's proudest achievements.
In 1962, he became the first Democrat elected to the Senate from South Dakota in 26 years. His chief interest was world peace. He challenged "our Castro fixation," decried America's capacity for nuclear "overkill" and proposed a $4-billion reduction in the U.S. defense budget. He also supported Medicare, school lunches and the war on poverty.
Conservative South Dakotans re-elected him twice, despite his 81% rating from the liberal Americans for Democratic Action. Part of his success was his attention to constituents. But another part was his authenticity, decency and sense of mission. Sen. Robert F. Kennedy (D-N.Y.) noticed it. "Of all my colleagues," he said, "the person who has the most feeling and does things in the most genuine way is George McGovern."
McGovern was one of the first senators to warn against involvement in Vietnam, in 1963. Two years later, he opposed extending the fighting into North Vietnam and called the war a "moral debacle." After Robert Kennedy was assassinated during his run for president, McGovern mounted his first campaign for the White House. He was defeated at the 1968 Democratic Convention, where young antiwar protesters were clubbed by police on the streets of Chicago.
Four years later, with antiwar sentiment at a pitch, he ran for president again. Almost immediately, McGovern became a target of attacks that grew into Watergate. President Nixon's aides saved their worst for other Democrats, because Nixon thought McGovern would be easier to beat. Nonetheless, they took steps to insert a Nixon "plant" into McGovern's campaign.
In his authoritative 1976 book, "Nightmare: The Underside of the Nixon Years," J. Anthony Lukas documented how Nixon's aides did better than a single "plant." They placed a spy among reporters covering McGovern's campaign, they sent a private investigator to infiltrate his state campaign in California, and they inserted still another spy into his national headquarters near Capitol Hill.