Rev. Moon, religious and political leader, dies in South Korea at 92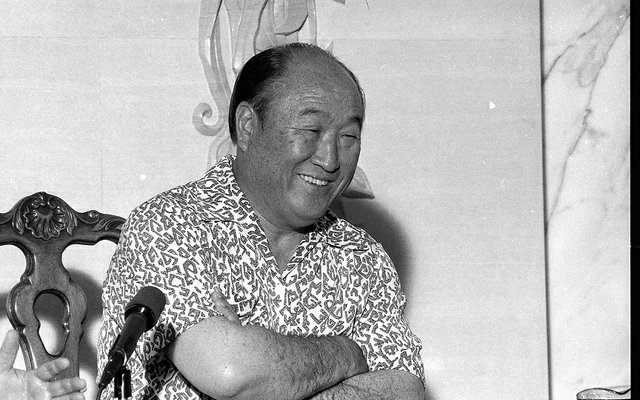 posted 2012-09-02 17:36:33 by dmcnelis





(CNN) -- The Rev. Sun Myung Moon -- founder of the Unification Church, which gained fame worldwide for its mass weddings decades ago -- died early Monday in South Korea, an organization affiliated with his church said.
The Universal Peace Federation said on its website that Moon died early Monday morning of complications related to pneumonia. He was 92.
The Washington Times, one of several publications that Moon founded, similarly reported Moon's death.
"Words cannot convey my heart at this time," said Thomas P. McDevitt, the Times' president said in a story on the newspaper's website. "Rev. Sun Myung Moon has long loved America, and he believed in the need for a powerful free press to convey accurate information and moral values to people in a free world."
McDevitt added that the Times is a "tangible expression of those two loves." In 2010, the newspaper was sold to a group operating on Moon's behalf, according to a statement on the paper's website.
Doctors put Moon in intensive care in a Seoul hospital last month after he suddenly fell ill, church spokesman Ahn Ho-yeol said then. At the time, physicians gave him a 50% chance of survival.
Days later, one of his sons -- the Rev. Hyung Jin Moon -- noted in a sermon posted on a church website that his father had multiple health problems in recent years, including heart surgery performed in the United States about 10 years ago. But still, he pushed on with his life's mission.
"Father, who is responsible to save the world, pushed himself way beyond his limits," said the son, who himself has a leading .
The Unification Church that the elder Moon founded gained fame worldwide for its mass weddings, including at New York City's Madison Square Garden.
See more religion news on CNN's Belief blog
Many met their spouses-to-be for the first time during the ceremony. In addition to weddings in South Korea, couples from various countries took part in the ceremony through satellite hookups.
The controversial Moon, whose church critics have compared to a cult and whose followers were colloquially known as "Moonies," served a federal prison term in the United States for tax evasion.
Between 2003 and 2005, the British government prohibited him from traveling to that country, according to a U.S. State Department report. Still, he continued to be regarded highly elsewhere -- including in Washington.
A video from 2004, posted on the website of what was then known as the Interreligious and International Federation for World Peace, showed a ceremony taking place in a U.S. Senate office building attended by Moon and several members of Congress. Speaking Korean, Moon declares himself the messiah and says he'd spoken to the spirits of Nazi leader Adolf Hitler and Soviet leader Joseph Stalin, both of whom he said found strength in his teachings and mended their ways.
Rep. Danny Davis, D-Illinois, is seen reading a poem and, wearing white gloves and carrying a crown on a pillow to Moon and his wife. Davis said later he thought it was all part of an interfaith peace ceremony, adding that Moon didn't ask his "permission to call himself the messiah."
Moon was traditionally a strong supporter of Republican politicians including Richard Nixon and Ronald Reagan, said Eileen Barker, a professor at the London School of Economics and Political Science.
He was also known for being "virulently anti-Communist," having been imprisoned in North Korea during the Korean War before being freed by the allies, she said.
Moon softened his hard line on North Korea, though, over time -- even meeting North Korea's founder (and grandfather of its current leader), the late Kim Il Sung, and investing money in the north.
His church believes that Jesus was divine but he is not God, a position that puts the Unification Church outside the bounds of traditional Christianity.
Followers instead regard Moon as the messiah who is completing the salvation mission that Jesus Christ failed to accomplish.
In the sermon from August 19 posted online, the Rev. Hyung Jin Moon praised his father's efforts over the years, as well as stating some of the family's political positions as regards China, Russia and others.
He also made a point to thank those who have been praying for his father's health.
"We need to remember, father is not just a normal person," said the Rev. Hyung Jin Moon. "Father's body is not just a normal body."