Neil Armstrong, 1st man on the moon, dies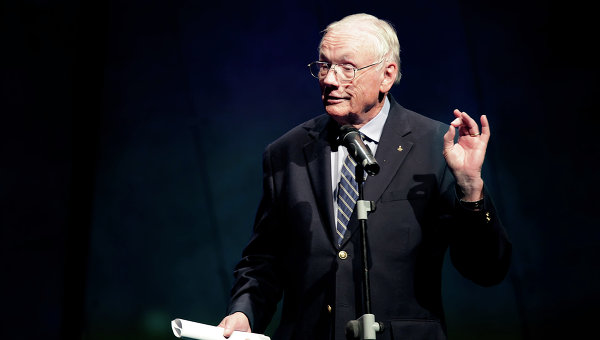 posted 2012-08-25 15:56:48 by MIKE





CINCINNATI (AP) — Neil Armstrong was a quiet self-described nerdy engineer who became a global hero when as a steely-nerved pilot he made "one giant leap for mankind" with a small step on to the moon. The modest man who had people on Earth entranced and awed from almost a quarter million miles away has died. He was 82.
In those first few moments on the moon, during the climax of heated space race with the then-Soviet Union, Armstrong stopped in what he called "a tender moment" and left a patch commemorate NASA astronauts and Soviet cosmonauts who had died in action.
"It was special and memorable but it was only instantaneous because there was work to do," Armstrong told an Australian television interviewer this year.
Armstrong and Buzz Aldrin spent nearly three hours walking on the lunar surface, collecting samples, conducting experiments and taking photographs.
"The sights were simply magnificent, beyond any visual experience that I had ever been exposed to," Armstrong once said.
The moonwalk marked America's victory in the Cold War space race that began Oct. 4, 1957, with the launch of the Soviet Union's Sputnik 1, a 184-pound satellite that sent shock waves around the world.
Although he had been a Navy fighter pilot, a test pilot for NASA's forerunner and an astronaut, Armstrong never allowed himself to be caught up in the celebrity and glamor of the space program.
"I am, and ever will be, a white socks, pocket protector, nerdy engineer," he said in February 2000 in one of his rare public appearances. "And I take a substantial amount of pride in the accomplishments of my profession."
A man who kept away from cameras, Armstrong went public in 2010 with his concerns about President Barack Obama's space policy that shifted attention away from a return to the moon and emphasized private companies developing spaceships. He testified before Congress and in an email to The Associated Press, Armstrong said he had "substantial reservations," and along with more than two dozen Apollo-era veterans, he signed a letter calling the plan a "misguided proposal that forces NASA out of human space operations for the foreseeable future."