Dan Roundfield, former Atlanta Hawks star, drowns in Aruba while saving wife.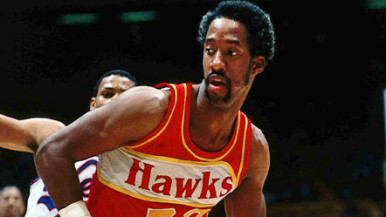 posted 2012-08-08 06:53:26 by jeffjones





Baby Beach is generally safe but can be deceptive. The water can get treacherous out beyond the reef in rough weather.
"It was a really bad day to go outside the reef."
The former All Star was apparently swept away in a strong current as he tried to help his struggling wife, Larmonie said. Police, firefighters, the Coast Guard and volunteers searched for him, finding his body about 90 minutes later, trapped by rocks underwater.
"It's a real tragedy," Larmonie said. "He drowned saving his wife."
Bernie Roundfield, who said she was helped to safety by a U.S. tourist snorkeling nearby, said in an interview that the couple, who live in the Atlanta area, had come to the island with their two grandchildren.
The couple had visited Aruba nearly 20 times and were caught off guard by the strong currents at the swimming area known as "Baby Beach," even though they had been there many times in the past, she said.
"We always go to Baby Beach, and we go there because it's so safe," she told The Associated Press. "It happened so fast."