Jonathan Hardy of Farscape dies at 71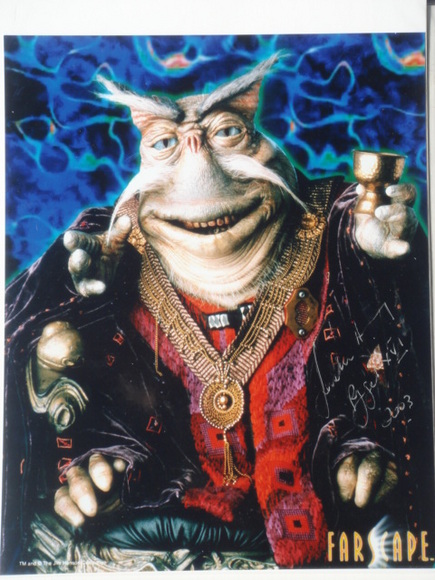 posted 2012-07-31 10:12:23 by grendel





Jonathan Hardy voiced Rygel XVI in all four seasons of Farscape, Farscape: The Game, and Farscape: The Peacekeeper Wars.
He received an Academy Award nomination for his screenplay for the 1980 film 'Breaker' Morant. Hardy also appeared on-camera as Kahaynu the builder in I Do, I Think and The Maltese Crichton.
Hardy spoke affectionately of his time as Rygel to the BBC, asserting "What else could one do to culminate a career than to become a very great international star as the voice of a Muppet?"
American viewers may not recognize the man behind the Dominar's mask, but Hardy's film credits include Mad Max (with Mel Gibson, as Commissioner Labatouche), Baz Luhrmann's Moulin Rouge! (as the Man in the Moon, with singing voice dubbed by Placido Domingo), The Adventures of Barry McKenzie (with Spike Milligan), The Delinquents (with Kylie Minogue and Melissa Jaffer), and Ned Kelly (as the Great Orlando). Television includes the Australian series Prisoner, the 1989 revival of Mission: Impossible, Twisted Tales, and the TV movie The Thorn Birds: The Missing Years.
Who is Dominar Rygel XVI?
According to Farscape.com, the Sixteenth Rygel in a line of Hynerian Dominars, Rygel was once the ruler of over 600 billion subjects in the Hynerian Empire. Barely two feet tall, Rygel rarely deigns to stand; instead, he floats about the live starship Moya on his ThroneSled, looking down his nose at the other members of the crew, muttering to himself, stealing what looks valuable, and eating whatever will fit in his amphibious mouth and fill his three stomachs.
In an interview by BBC News, Hardy says Rygel was a commentary on humanity.
"Essentially it's a case of Rygel being in many ways the most human of the characters, although he's a Hynerian and only 2 foot 8... Because he is free to be an alien, he can be greedy and selfish and generous and heroic, and all those things that all of us are if we get in the right position. So in many ways, because he is so flawed and in many ways so great, I guess he is an archetypal human being. And I love him, he's a sweet little guy.
At this writing, there's no information on Hardy's cause of death. Even New Zealand news isn't up to date yet.
However, this isn't the first life-threatening situation that Hardy has faced.
Well over thirty years ago, Jonathan Hardy was to direct The Man from Snowy River. He cast it, and suddenly collapsed, and had to have a heart transplant. Hardy said, "In that sense I've got something in common with Rygel, I've got somebody else's heart, so I'm a bit alien myself."
The speculative fiction fans around the world mourn the loss of Jonathan Hardy and his special voice for the ill-contented muppet. May his next world adventures be as fun as Rygel was to viewers.