Nicholas Katzenbach, Trusted Adviser to J.F.K. and L.B.J., Dies at 90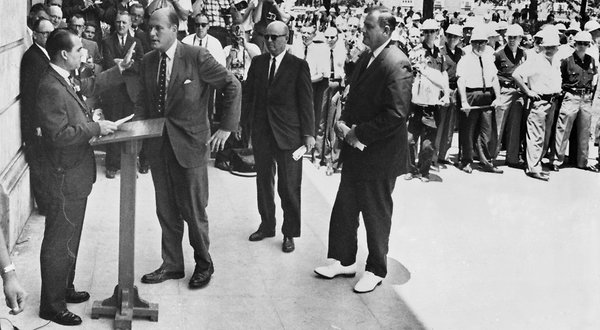 posted 2012-05-09 17:13:49 by stevemay





Nicholas deB. Katzenbach, who helped shape the political history of the 1960s, facing down segregationists, riding herd on historic civil rights legislation and helping to map Vietnam War strategy as a central player in both the Kennedy and Johnson administrations, died on Tuesday night at his home in Skillman, N.J. He was 90.
His death was confirmed by his wife, Lydia.
Mr. Katzenbach was one of the "best and the brightest," David Halberstam's term for the likes of Robert McNamara, McGeorge Bundy, Walt Rostow and other ambitious, cerebral and often idealistic postwar policymakers who came to Washington from business and academia carrying golden credentials. Mr. Katzenbach, an attorney general under President Lyndon B. Johnson, was the son of a New Jersey state attorney general, a Rhodes scholar, a law professor at Yale and the University of Chicago, and a war hero.
His government service virtually encompassed the issues of the '60s. He advised President John F. Kennedy during the Cuban missile crisis, negotiated the release of Cuban prisoners captured during the Bay of Pigs invasion, and pushed for an independent commission to investigate the Kennedy assassination. He was Robert F. Kennedy's No. 2 in the Justice Department and took on the pugnacious F.B.I. director J. Edgar Hoover over his wiretapping of the Rev. Dr. Martin Luther King Jr. Before Congress, as an under secretary of state, he defended President Johnson's escalation of the Vietnam War.
"Few men have been so deeply involved in the critical issues of our time," President Johnson wrote to him when Mr. Katzenbach resigned as under secretary on Nov. 8, 1968.
Perhaps his most tense moment in government came on June 11, 1963, when he confronted George C. Wallace in stifling heat on the steps of the University of Alabama in Tuscaloosa. Mr. Wallace was the Alabama governor who had trumpeted "segregation now, segregation tomorrow, segregation forever" and vowed to block the admission of two black students "at the schoolhouse door."
Mr. Katzenbach, flanked by a federal marshal and a United States attorney, approached Foster Auditorium, the main building on campus, around 11 a.m. Mr. Wallace was waiting behind a lectern at the top of the stairs, surrounded by a crowd of whites, some armed.
"Stop!" he called out, raising his hand like a traffic cop.
Mr. Katzenbach read a presidential proclamation ordering that the students be admitted and asked the governor to step aside peacefully. Mr. Wallace read a five-minute statement castigating "the central government" for "suppression of rights."
Towering over Mr. Wallace, Mr. Katzenbach, a 6-foot-2-inch former hockey goalie, was dismissive. "I'm not interested in this show," he said.
The students were registered about four hours later.
Mr. Katzenbach was known for reconciling differences and cooling tempers. At the University of Alabama, he had the idea of leaving the aspiring black students, Vivian Malone and James Hood, in a car nearby while he approached Governor Wallace. That way the government would avoid the spectacle and complications of charging a sitting governor with violating a court order not to interfere with the students — because he would not have seen them — and at the same time reduce the chances of crowd violence.
On Capitol Hill, Mr. Katzenbach, a devoted Democrat, cultivated the good will of Republican senators in 1964 to help pass the landmark 1964 Civil Rights Act and the Voting Rights Act of 1965, which he also helped draft, ending a century of discrimination at the polls. In an interview with The New York Times for this obituary in 2006, Mr. Katzenbach contrasted his style as attorney general with that of the sometimes brutal straightforwardness of his predecessor, Robert Kennedy. He said his own way was to be "less than direct."
Indeed, his unflappability was on display in World War II when, as a bomber's navigator, he heard the bombardier announce over the intercom that the plane was on fire.
"That's too bad," Mr. Katzenbach replied.