'Dark Shadows' star Jonathan Frid dead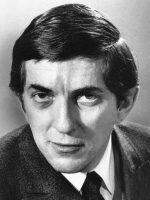 posted 2012-04-19 14:53:57 by grendel





Cult actor Jonathan Frid has died at 87, according to Digital Spy. Frid passed away on April 13 from natural causes at Juravinski Hospital in Ontario, Canada.
The actor was best known for playing vampire Barnabas Collins in '60s supernatural TV soap opera "Dark Shadows," which is the subject of an upcoming big screen remake directed by Tim Burton and starring Johnny Depp in the role made famous by Frid. The actor makes a cameo appearance in the film, and it was fittingly his final screen role. Other notable credits include roles in "The Devil's Daughter" and 1974 horror film "Seizure."
Frid's former "Dark Shadows" co-star Kathryn Leigh Scott paid tribute to the actor on her official website, writing, "I am so grateful to have worked with Jonathan and to have known him as the charismatic, entertaining, complex and plainspoken man that he was. What fun we had working together! He was irascible, irreverent, funny, caring, lovable and thoroughly professional, and in the end became the whole reason why kids ran home from school to watch 'Dark Shadows.'"