Mike Wallace, `60 Minutes' star interviewer, dies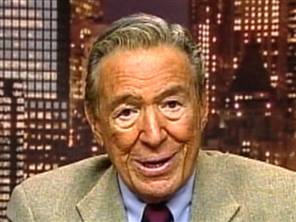 posted 2012-04-08 12:13:30 by Stevemay





NEW YORK—Mike Wallace didn't interview people. He interrogated them. He cross-examined them. Sometimes he eviscerated them. Wallace, whose pitiless, prosecutorial style transformed television journalism and made "60 Minutes" compulsively watchable, died Saturday night at a care facility in New Canaan, Conn., where he had lived in recent years, CBS spokesman Kevin Tedesco said. He was 93.
Until he was slowed by heart surgery as he neared his 90th birthday in 2008, Wallace continued making news, doing "60 Minutes" interviews with such subjects as Jack Kevorkian and Roger Clemens. He had promised to still do occasional reports when he announced his retirement as a correspondent in 2006.
Wallace, whose career spanned 60 years, said then that he had long vowed to retire "when my toes turn up" and "they're just beginning to curl a trifle. ... It's become apparent to me that my eyes and ears, among other appurtenances, aren't quite what they used to be."
Among his later contributions, after bowing out as a regular, was a 2007 profile of GOP presidential hopeful Mitt Romney, and an interview with Kevorkian, the assisted suicide doctor released from prison in 2007 who died last year.
In December 2007, Wallace landed the first interview with Clemens after the star pitcher was implicated in the Mitchell report on performance enhancing drugs in baseball. The interview, in which Clemens maintained his innocence, was broadcast in early 2008.
Wallace's "extraordinary contribution as a broadcaster is immeasurable and he has been a force within the television industry throughout its existence," Leslie Moonves, CBS Corp. president and CEO, said in a statement Sunday.
Wallace was the first man hired when late CBS news producer Don Hewitt put together the staff of "60 Minutes" at its inception in 1968. The show wasn't a hit at first, but it worked its way up to the top 10 in the 1977-78 season and remained there, season after season, with Wallace as one of its mainstays. Among other things, it proved there could be big profits in TV journalism.
The top 10 streak was broken in 2001, in part due to the onset of huge-drawing rated reality shows. But "60 Minutes" remained in the top 25 in recent years, ranking 15th in viewers in the 2010-11 season.
The show pioneered the use of "ambush interviews," with reporter and camera crew corralling alleged wrongdoers in parking lots, hallways, wherever a comment -- or at least a stricken expression -- might be harvested from someone dodging the reporters' phone calls.