Poet Adrienne Rich, 82, has died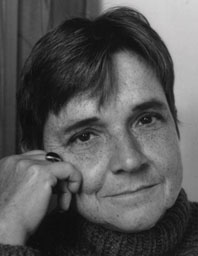 posted 2012-03-28 16:57:48 by DaveM





Adrienne Rich, a pioneering feminist poet and essayist who challenged what she considered to be the myths of the American dream, has died. She was 82.
The recipient of such literary awards as the Yale Young Poets prize, the National Book Award, the Ruth Lilly Poetry Prize and the Dorothea Tanning Award given by the Academy of American Poets, Rich died Tuesday at her home in Santa Cruz of complications from long-term rheumatoid arthritis, said a son, Pablo Conrad.
She came of age during the social upheavals of the 1960s and '70s and was best known as an advocate of women's rights, which she wrote about in both her poetry and prose. But she also wrote passionate antiwar poetry and took up the causes of the marginalized and underprivileged.
From her first book of poems in the early 1950s, Rich, a Baltimore native who attended Radcliffe College, showed her feminist bearings. Twenty years later, her image was set when universities began introducing courses in women's studies and Rich was among the most likely writers to be included.
Selected for the National Medal for the Arts in 1997, the highest award given to artists, Rich refused it.
"The radical disparities of wealth and power in America are widening at a devastating rate," she wrote in a letter addressed to then-President Clinton. "A president cannot meaningfully honor certain token artists while the people at large are so dishonored."