Former Pens coach Johnny Wilson dies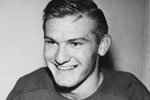 posted 2011-12-28 22:03:03 by Grendel





The news came from his nephew, Toronto Maple Leafs coach Ron Wilson, who announced it on Twitter.
The cause of death and Johnny Wilson's place of residence at the time of his passing were not immediately known.
Wilson, 82, coached the Penguins from 1977-78 through 1979-80, compiling a 91-105-44 record.
His first team failed to qualify for the Stanley Cup playoffs, his second reached the second round and his final club was eliminated in the opening round.
Wilson played 688 games in the NHL and coached a variety of NHL and minor-league teams in addition to the Penguins.