Christopher Hitchens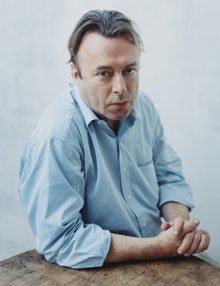 posted 2011-12-16 00:20:02 by stevemay





Christopher Hitchens, a sharp-witted provocateur who used his formidable learning, biting wit and muscular prose style to skewer what he considered high-placed hypocrites, craven lackeys of the right and left, "Islamic fascists" and religious faith of any kind, died. He was 62. He had cancer of the esophagus.
Vanity Fair, the magazine for which Mr. Hitchens worked, confirmed his death.
Mr. Hitchens, an English-born writer who had lived in Washington since 1982, was a tireless master of the persuasive essay, which he wrote with an indefatigable energy and venomous glee. He often wrote about the masters of English literature, but he was better known for his lifelong engagement with politics, with subtly nuanced views that did not fit comfortably with the conventional right or left.
In his tartly worded essays, books and television appearances, Mr. Hitchens was a self-styled contrarian who often challenged political and moral orthodoxy. He called Henry Kissinger a war criminal, savaged Mother Teresa and Princess Diana, ridiculed both Ronald Reagan and Bill Clinton, then became an outspoken opponent of terrorism against the West from the Muslim world.
In 2007, Mr. Hitchens aimed his vitriol even higher, writing a best-selling book that disputed the existence of God, then enthusiastically took on anyone — including his own brother — who wanted to argue the matter.
His supporters praised Mr. Hitchens as a truth-telling literary master who, in the words of the Village Voice, was "America's foremost rhetorical pugilist." Writer Christopher Buckley has called him "the greatest living essayist in the English language."
Enemies vilified Mr. Hitchens as a godless malcontent. His onetime colleague at the Nation, Alexander Cockburn, called him "lying, self-serving, fat-assed, chain-smoking, drunken, opportunistic [and] cynical."
Mr. Hitchens was a raffish character who constantly smoked and drank, yet managed to meet every obligation of a frenetic professional and social schedule. A writer for the Observer newspaper in Britain described him as "at once resolute and dissolute."
Friends and enemies alike marveled at how the hedonistic Mr. Hitchens, after a full evening of drinking and talking, could then sit down and casually produce sparkling essays for Vanity Fair, the Nation, the Atlantic, Slate.com and many other publications without missing a deadline.
"Writing is recreational for me," he said in 2002. "I'm unhappy when I'm not doing it."
He seldom produced an uninteresting sentence while writing with authority on a dizzying array of subjects, including books on Thomas Jefferson, Thomas Paine and the Elgin Marbles. Besides his political essays — usually about international affairs, seldom about domestic U.S. policy — Mr. Hitchens also wrote about strictly literary subjects, including authors Charles Dickens, Ernest Hemingway, P.G. Wodehouse and Philip Roth.
The writer he was most identified with, though, was George Orwell, the British essayist and author of "1984." His bracing moral courage and brisk prose were among Mr. Hitchens's ideal models.