Bluesman Hubert Sumlin, guitarist for Howlin' Wolf, dies at 80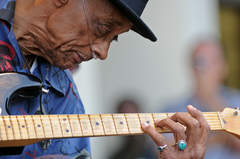 posted 2011-12-04 23:41:31 by grendel





Hubert Sumlin put the bite behind Howlin' Wolf.
And he then influenced a new pack of electric blues and rock guitarists.
Mr. Sumlin died Sunday in a hospital in Wayne, N.J., reportedly of heart failure. He had turned 80 on Nov. 16. Mr. Sumlin was best known as lead guitarist for Howlin' Wolf (Chester Burnett) from 1953 until Wolf's death in 1976.
This was no small feat. The combustible guitar parts in Wolf's big-voiced tracks — "Smokestack Lightning," "Spoonful," "Ain't Superstitious" — set Wolf on fire at Sun Records in Memphis and later at Chess Records in Chicago.
The 1953 summit of Mr. Sumlin and Wolf was to blues what the meeting of Scotty Moore and Elvis Presley was to rock just a year later.
In the current issue of Rolling Stone, Mr. Sumlin is ranked 43rd on the magazine's list of the 100 greatest guitarists of all time. Led Zeppelin's Jimmy Page told the magazine, "I love Hubert Sumlin. He always played the right thing at the right time."
Mr. Sumlin's menacing lead on Wolf's "Killing Floor" inspired Jimi Hendrix to sit in with Eric Clapton during a 1967 London gig. It would be the only time Clapton and Hendrix would play together.
Stevie Ray Vaughan was a fan. In the early 1980s Vaughan gave Mr. Sumlin a vintage Rickenbacker guitar, one that Mr. Sumlin loved so much he was afraid to take out of his house.
Born in Greenwood, Miss., Mr. Sumlin was part of the great blues migration to Chicago. He and Burnett arrived in Chicago in 1953. Mr. Sumlin had been playing with James Cotton in West Memphis, and Burnett hired him in Chicago.
"We were playing Silvio's [at Lake and Oakley], and he said, 'You go home when you find out you've got my courage, then you can come back and play my songs,' " Mr. Sumlin told me in a 1988 interview from his South Side home. "Man, I got home and cried all night. I slept with my guitar by my head. Then about 4 o'clock in the morning something said, 'Hey man, why don't you put the [guitar] picks down. You ain't got no business using picks!' "
At that moment, Mr. Sumliln said, he discovered his own style, which evolved into an individualistic mix of African syncopation and itemized structure that forced the notes to stand alone. Clapton once called Mr. Sumlin's style "just the weirdest."
Chicago blues guitarist Dave Specter began playing with Mr. Sumlin in 1985. Wolf and Paul Butterfield drummer Sam Lay had hired Specter to join him and Mr. Sumlin on a three-week tour of Canada. Specter was 22 years old.
"Hubert was just the sweetest guy and very encouraging and supportive of younger players," Specter said on Sunday. "I wouldn't use 'tough' as an adjective for his playing. He had a totally unique sound. When you listen to his famous solos on [Wolf's] 'Hidden Charms' or '300 Pounds of Heavenly Joy' [later a hit for Chicago's Big Twist and the Mellow Fellows], there is so much style to it. A lot of it had to do with his touch and playing with his fingers. There are lot of guitar players who played with their fingers and had a more aggressive approach, like Albert Collins. Your sound and your tone is a reflection of your personality.
"And Hubert had larger-than-life charm and devilishness."
In recent years Mr. Sumlin relocated from Chicago and then Milwaukee to Totowa, N.J. Specter last saw Mr. Sumlin in 2009, when he was touring with the Nighthawks and they appeared at S.P.A.C.E., the popular Evanston music room that Specter co-owns. .
In 2010 young guitarist Kenny Wayne Shepherd and Mr. Sumlin received a best contemporary blues album Grammy nomination for "Live! in Chicago." Mr. Sumlin was also nominated for Grammys in 1998, 1999 and 2005 in best traditional blues album categories. He never won.
Mr. Sumlin's patience likely came from his years of traveling with Burnett.
"Once we were on the road for three months and I had to drive because Eddie Shaw [the saxophonist who became Wolf's bandleader] wasn't with us," Mr. Sumlin said in 1988. "I had to set up the instruments, load the instruments. And nobody would help with nothin'. We were at Silvio's and we were beat. I was sitting up at a table and the folks hadn't even walked in yet. Wolf was tired and just hauled off and hit me. I hit him back. We both knocked each other's teeth out. And the whiskey went upside the wall. I figure we tore down about $1,800 or $1,900 worth of whiskey displays.
"Yes sir."
Mr. Sumlin had been scheduled to appear at last summer's Chicago Blues Festival with David "Honeyboy" Edwards in a tribute to Robert Johnson. They canceled their appearances because of health issues. Edwards died at age 95 on Aug. 29.
Mr. Sumlin had a lung removed in 2004 and last year appeared at the Crossroads Guitar Festival with his oxygen tank. Earlier this year the New York Times reported that Keith Richards was assisting Mr. Sumlin with his medical bills. Richards was a guest on Mr. Sumlin's 2005 Grammy-nominated "About Them Shoes."
Funeral arrangements are pending.