Palestinian leader Arafat dies at 75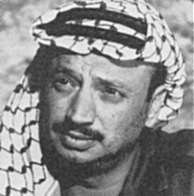 posted 2004-11-10 23:17:00 by stevemay





Palestinian Authority President Yasser Arafat, 75, the leader who passionately sought a homeland for his people but was seen by many Israelis as a ruthless terrorist and a roadblock to peace, died early Thursday in Paris.
Arafat had been sick with an unknown illness that had been variously described as the flu, a stomach virus or gallstones. He flew to Paris last week seeking medical treatment and was hospitalized with what Palestinian officials said was a blood disorder.
For five decades, Arafat -- adorned with his trademark checkered kaffiyeh -- was the most prominent face of Palestinian opposition to Israel and the push for a Palestinian state, first as the head of the Palestine Liberation Organization, which carried out attacks against Israeli targets, and later as the leader of the quasi-governmental Palestinian Authority after parts of the West Bank and Gaza were returned to Palestinian control.
His death leaves no clear immediate successor in the often fractious world of Palestinian politics.
The Palestinian constitution provides that the speaker of the Palestinian House of Representatives assumes temporary power if the president dies or is found to be unable or incompetent to rule.
The constitution calls for elections within 60 days to fill the post permanently.
The president holds office for five years and can stand for re-election once.
Arafat was first elected head of the PLO in 1969, and by 1974, Arab leaders recognized the group as "the sole legitimate representative" of the Palestinian people.
In 1994, Arafat was awarded the Nobel Peace Prize, along with Israeli leaders Yitzhak Rabin and Shimon Peres, for their work on the Oslo accords, seen at the time as a breakthrough toward an independent Palestinian state and a permanent peace with Israel. Yet a decade later, Arafat died without seeing his dream of a Palestinian homeland come true.
At a summit at Camp David, Maryland, in 2000, Arafat decided to turn down a U.S.-brokered deal offering Palestinians control of most of the occupied Palestinian territory. Three months later, intense fighting broke out between Palestinians and the Israeli army.
Israel -- in retaliation for increased terrorist attacks on Israeli civilian targets -- severely restricted Arafat's movements, confining him to his West Bank compound in Ramallah in December 2001.
Continuing violence, along with corruption and economic problems, raised questions at home and abroad about Arafat's ability to lead the Palestinian Authority.
In 2003, under pressure from the United States and members of his own Cabinet, Arafat appointed Mahmoud Abbas to the new position of prime minister, a move designed to decentralize power. But Abbas resigned less than six months later, saying he didn't have enough support to do the job.
In July, Arafat announced a program designed to unify security forces and tackle corruption after his frustrated second prime minister, Ahmed Qorei, also tried to resign.
Arafat is survived by his wife, Suha Tawil, whom he married in 1991, and their daughter, Zahwa, who was born in 1995.