Gwar Guitarist Cory Smoot Found Dead On Tour Bus This Morning Following Show In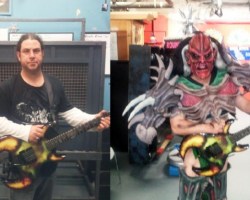 posted 2011-11-04 00:48:58 by Grendel





Just hours after posting our review of last night's Gwar show at First Avenue, we learned that guitarist Cory Smoot, who goes by the stage name Flattus Maximus, has passed away. Smoot died of unknown causes sometime between the end of last night's show and when his bandmates attempted to wake him to cross the border into Canada this morning
Smoot has been a member of Gwar since 2002.
When we contacted the band's publicist to confirm this sad news, we were provided with a statement from Gwar leader Dave Brockie, a.k.a. Oderus Urungus:
"It is with a sense of profound loss and tragedy that the members of Gwar must announce the passing of their long time guitarist and beloved friend Cory Smoot, also known to thousands of metal fans worldwide as Flattus Maximus. Cory was found deceased this morning as the band prepared for a border crossing. There is no word as to the cause of death and the members of Gwar are completely shocked and devastated that this has occurred.
"At this point there is no word on arrangements and the disposition of the remainder of Gwar's current North American tour, nor are there any details regarding long term plans. At this point we are just dealing with the loss of our dear friend and brother, one of the most talented guitar players in metal today. We ask that our fans and the media be respectful of our request for privacy for those that have suffered this terrible loss. A full statement will be coming in the next day or so, in the meantime please give your thoughts and your prayers to Cory, his family, and all the people that love him."
We will be keeping an eye on this story as it develops and will post more information when we have it.
UPDATE, 4:12 p.m.: We just spoke with Nate Kranz, the general manager of First Avenue, to find out if there was anything suspicious or strange about last night's show.
"There was nothing unusual about the show last night, it was about as normal as you can get," he says. "Conrad [Sverkerson, First Ave's longtime stage manager], their drummer, and their tour manager went and had one drink at O'Donovans after the show, and then they got on their tour bus, we let them out of the garage, and sent them on their way."
Kranz couldn't remember the exact time the band hit the road, but he estimated it was around the midnight hour.
"It's so routine to have a Gwar show here," he said. "They've been playing here for so many years that I even know where the tour manager wants to sit during the day while he's here. We had a great day with them yesterday."
Kranz said the news hit the club especially hard given Gwar's history with the downtown venue. Back in 2004, when the club shuttered its doors for three weeks and underwent some financial and ownership changes, Gwar was the first band to perform at the newly reopened club. "I feel like it's a band that we are super intertwined with at the club here, given that they played at our reopening," he said. "It's just a shock."
Chris Riemenschneider at the Star Tribune also has an interview with Sverkerson about last night posted here.