Infomercial Star Don Lapre Found Dead in Jail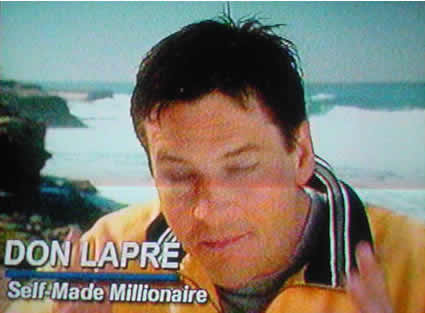 posted 2011-10-05 15:56:58 by DaveM





Arizona TV pitchman Don Lapre, the self-styled "King of Infomercials," has been found dead in his jail cell, just days before he was due to stand trial on charges of bilking investors and customers out of almost $52 million.
According to AZCentral.com, U.S. Marshals said Lapre's body was discovered on Sunday morning at a federal-contract facility in Florence, Arizona.
Officials suspect he committed suicide while in federal custody, but the death remains under investigation.
In June, a grand jury indicted Lapre on 41 counts of conspiracy, mail fraud, wire fraud and promotional money laundering. He was arrested in Tempe shortly afterward and his trial on fraud charges linked to his vitamin-selling business was due to start tomorrow.
He reportedly attempted suicide by slashing his femoral artery when federal marshals arrived to arrest him.
'The Greatest Vitamin in the World' pitchman was accused of overseeing and promoting a misleading opportunity. Officials allege that he defrauded investors and customers by selling them worthless vitamins that didn't live up to his extravagant advertising claims.
Lapre is alleged to have used his trademark emphatic TV pitch style to recruit some 220,000 investors and customers, who handed over almost $52 million before his business was shut down in 2007.
He came to fame on TV pitch shows like 'Making Money From A Tiny One Bedroom Apartment,' and his sales technique relied heavily on recounting his hard-luck life story to viewers. He claimed to have made a fortune by running numerous tiny classified ads in thousands of newspapers around the country.
Lapre encouraged viewers to turn their lives around like he said he had and regaled them with tales of how he had made $50,000 a week out of his one-bedroom apartment.
At one stage Lapre was so well-known that his schtick was parodied by David Spade on 'Saturday Night Live.'
A statement on his website challenges the idea that he made millions out of the vitamins business: "I tried to create the best product on earth, paid out millions, made very little trying to make it a success, had attorneys review my entire company, paid out millions in refunds. ... I did not have the perfect company but never once did I allow one thing to be done that would violate any law."