NHL veteran Wade Belak found dead in Toronto condo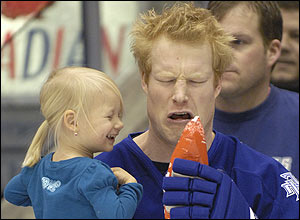 posted 2011-09-01 18:56:30 by grendel





Wade Belak, a 15-year NHL veteran who announced his retirement in March, was found dead in his Toronto condo early Wednesday afternoon, according to QMI Agency and later confirmed to the National Post's Sean Fitz-Gerald by the Nashville Predators. He was 35 years old.
The cause of death is undetermined at the moment, but foul play was not suspected.
It was announced last week that Belak had been named as one of the contestants for the upcoming third season of the CBC's "Battle of the Blades" show. He was also scheduled to be part of the Predators' television broadcast team for the upcoming season.
Like many of hockey's tough guys, Belak was beloved off the ice for his humorous, engaging personality. Even after being traded from the Toronto Maple Leafs to the Florida Panthers in 2008, Belak was able to put a funny spin on his departure.
Former Nashville Predators assistant GM Mike Santos -- now with the Florida Panthers -- spoke to George Richards of the Miami Herald about Belak, who spent the final 2 1/2 seasons of his career in Music City:
"He was as friendly and nice a person as I have ever met," Santos said. "He would give you the shirt off his back. He did so much for kids and our community. He was wonderful. I'm shocked. I'm sad. I don't know what to say. It's a real shame. He's the best.''
The Predators released a statement on Belak earlier Wednesday evening:
"The entire Nashville Predators organization and family is shocked and saddened by the sudden and untimely passing of Wade Belak. Wade was a beloved member of the organization, a terrific teammate and wonderful father and husband. He will be greatly missed. Our thoughts and prayers go out to his wife Jennifer and children Andie and Alex. We offer our full support to them at this very difficult time."
From NHL commissioner Gary Bettman:
"The National Hockey League family mourns the passing of Wade Belak, who competed to the utmost every minute of his NHL career. Our hearts go out to Wade's loved ones, his friends, his former teammates and to all who feel the horrible void left by this tragedy."
From NHLPA executive director Donald Fehr:
"All Players and NHLPA staff are sincerely saddened and shocked by the passing of former member Wade Belak. His affable personality made him popular with teammates, fans and media, and he was a hardworking, respected member of the Association. He will undoubtedly be greatly missed throughout the entire hockey community. Our deepest condolences go out to Wade's family and friends during this very difficult time."
Belak becomes the third NHLer with a history of fighting to pass away since May. Derek Boogaard, 28, of the New York Rangers was found dead in his Minnesota apartment on May 13 with the cause of death later determined as an accidental overdose of alcohol and oxycodone toxicity. On Aug. 15, Winnipeg Jets forward Rick Rypien was found dead in his Alberta home at 27.