Tony Sale, mastermind behind Colossus rebuild, dies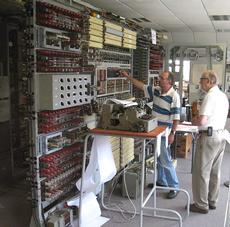 posted 2011-08-31 10:05:30 by grendel





Tony Sale, one of the founders of the Bletchley Park Trust and the mastermind behind the successful re-build of Colossus, the world's first operational computer, has died aged 80.
Colossus played a vital part in the war effort from 1944 onwards, breaking the codes of the German forces in record times.
Along with his wife Margaret, Sale (pictured right with the Colossus machine) worked tirelessly as part of a small team to ensure Bletchley Park was preserved for the nation, in a period when its national importance was not understood in most quarters.
He used his long retirement almost entirely on his work at the Trust and subsequently at the National Museum of Computing based at Bletchley Park.
Simon Greenish, director of the Bletchley Park Trust, said: "Tony's contribution to the early days of the development of the Trust when the site was under very real threat of development was fundamental, and without him the Bletchley Park site and its hugely important history would perhaps not have survived."
After the war Sale served as an MI5 officer during the height of the Cold War. His later work on re-building Colossus took many years to complete, with Sale scouring telephone exchanges up and down the country to find spare parts for the rebuilt machine.
Sale greeted the Queen on her recent visit to Bletchley Park when she unveiled a memorial to honour wartime veterans.
Tony is survived by his wife Margaret, their three children, seven grandchildren and one great-grandchild.