Orioles great Mike Flanagan found dead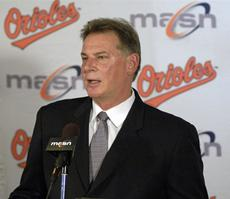 posted 2011-08-25 08:06:24 by jeffjones





Mike Flanagan, whose career with the Baltimore Orioles included a Cy Young Award and World Series championship as a pitcher, and stints as a coach, executive and broadcaster, was found dead at his Maryland home on Wednesday.
Flanagan's death was first reported by WBAL-TV in Baltimore and later confirmed by the Baltimore Sun, citing law enforcement or club sources.Mike Flanagan, a former Orioles executive, had a career 167–143 record and a 3.90 ERA.
CAPTIONBy Will Kirk, AP
Baltimore County police had said they were investigating a body found on Wednesday at 4:30 p.m. ET on the property owned by Flanagan, 59.
Orioles Managing Partner Peter Angelos issued the following statement regarding Flanagan's death: "It is with deep sadness that I learned of the death of my friend Mike Flanagan earlier this evening. In over a quarter century with the organization, Flanny became an integral part of the Orioles family, for his accomplishments both on and off the field. His loss will be felt deeply and profoundly by all of us with the ballclub and by Orioles fans everywhere who admired him. On behalf of the club, I extend my condolences to his wife, Alex; and daughters Kerry, Kathryn and Kendall."
"It's just shock right now," said former Orioles catcher Rick Dempsey. "I know everybody that played with him loved him to death. He was the backbone of that pitching staff. He never quit — this guy never quit. He was there for the duration. We had so many great games and so many great times. I just can't believe it."
Flanagan pitched for 18 seasons with the Orioles (1975-87 and 1991-92) and the Toronto Blue Jays (1988-90). The left-hander won the Cy Young Award in 1979 after posting a 23–9 record and a 3.08 ERA. In 1983, he went 12-4 for the World Series champion Orioles. In 1991, he was part of a no-hitter with starter Bob Milacki, middle reliever Mark Williamson, and closer Gregg Olson at Oakland.
Flanagan had a career record of 167-143 and a 3.90 ERA.
After he retired in 1992, Flanagan served two stints as Orioles pitching coach and was the Orioles executive vice president of baseball operations. He and Jim Duquette shared general manager responsibilities for a time, but Flanagan's front-office influence lessened with the 2007 hiring of Andy MacPhail as president of baseball operations.
In 2010, Flanagan was hired by Mid-Atlantic Sports Network to work as a color analyst on Orioles telecasts.
As the Orioles' game at Minnesota unfolded Wednesday night, color analyst Jim Palmer called the action knowing his good friend, teammate and broadcast partner had passed away.
Palmer, a Hall of Famer who played with Flanagan for 10 years, could not hold back tears on air when MASN confirmed Flanagan's death after the game.
"We were a family," Palmer said. "I think about who played for the Orioles in the years we did, we understand how lucky we were. He was one of a kind."
Orioles manager Buck Showalter said the team learned of Flanagan's death during the game. "We were hoping and praying," Showalter said, "that it was erroneous."
Hall of Fame shortstop Cal Ripken Jr. said in a statement that Flanagan "was an Oriole through and through. This is a sad day."
Though Flanagan spent parts of four seasons with the Blue Jays, he finished his career pitching two more seasons with the Orioles, re-casting himself as a successful left-handed reliever. He fulfilled a dream by recording the final two outs by an Orioles pitcher at old Memorial Stadium in 1991.
Said Flanagan in a July 1991 interview: "That would be a real honor. It's to the point where I've had a pretty decent year here. I'd like to pitch in the last game. Pitching the last inning in that ballpark would mean a lot to me."