NHL player Rick Rypien found dead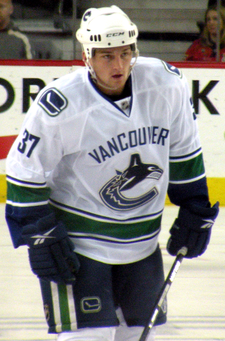 posted 2011-08-16 07:33:55 by jeffjones





Winnipeg Jets forward Rick Rypien was found dead in his Alberta home earlier Monday night, according to a report by The Globe and Mail of Toronto. Sgt. Patrick Webb of the Royal Canadian Mounted Police said they received a phone call at 12:30 p.m. local time to go to a residence in Coleman, according to the Sports Network.
Webb declined to say who made the phone call or where the body was found. Local authorities told The Globe and Mail that the death was sudden, but not suspicious. Rypien was 27.
The former Vancouver Canucks player missed most of last season after taking a leave of absence due to personal reasons. The Globe and Mail reports it was his second leave in three years with the Canucks, and he had been battling depression.
Rypien was also the recipient of a six-game suspension last season after he granned a fan on his way to the dressing room in Minnesota.
"Rick was a talented player with an extremely bright future," the Jets said in a prepared statement. "His hunger for the game made him a valued team member both on and off the ice. This loss has impacted us as more than just a hockey team. As many people are aware, he had strong ties to True North Sports and Entertainment, the Winnipeg Jets Hockey Club, the former Manitoba Moose Hockey Club and the Vancouver Canucks. We would like to express our sincere sympathies to the Rypien family as well as Rick's friends. We also appreciate all of the support that has come pouring in from Rick's fans."
Rypien is perhaps best known for his role as an enforcer and fighter with Vancouver. He had signed with the Jets in the offseason after six seasons with the Canucks.
Angela Rypien, Rick's cousin, posted the following on her Twitter account: "I will never forget today and what sadness and hurt it has brought upon my family! R.I.P Rick Rypien, I love you so much and will miss you more than anything!"
The Canucks also expressed condolences later in the evening with a press release.
"Rick has been a beloved member of the Canucks family for the past six years," it read. "Rick was a great teammate and friend to our players, coaches and staff. We send our deepest condolences to the Rypien family at this most difficult time."
Rick Rypien is the second NHL player to die this offseason. New York Rangers forward Derek Boogaard – also known for his role as an enforcer – died on May 13 due to an accidental mix of alcohol and oxycodone,
Rypien signed a one-year, $700,000 deal with Winnipeg in July. In 119 NHL career games, he had nine goals, seven assists and 226 penalty minutes.