Jani Lane Warrant Singer Dead at 47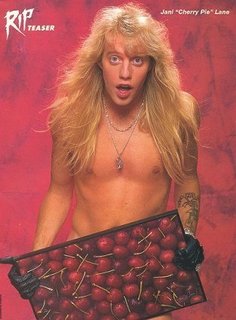 posted 2011-08-11 23:45:29 by MIKE





According to TMZ.com former WARRANT singer Jani Lane was found dead Thursday evening (August 11) at a Los Angeles-area hotel. He was 47 years old.
Lane's body was discovered at the Comfort Inn hotel in Woodland Hills, California. So far, no official cause of death has been released.
In February, Lane canceled all of his previously announced solo tour dates two days before the first show was due to take place. No explanation was offered for the cancelation.
WARRANT announced in September 2008 that it was splitting with Lane six months after the band first reunited with the troubled vocalist. He has since been replaced by Robert Mason (LYNCH MOB, CRY OF LOVE, BIG COCK).
Lane originally left WARRANT in March 1993 but rejoined the band in September 1994. The group went on to record the "Ultraphobic" (1995), "Belly To Belly" (1996) and "Greatest & Latest" (1999) albums and issued and collection of covers, "Under The Influence", in 2001. Jani quit WARRANT again in 2004 before reuniting with the group four years later.
On July 19, 2010, Lane pled no contest to DUI stemming from his most recent arrest back in May 2010 — and was ordered to serve 120 days in jail. In addition, Lane lost his license for three years and had to complete a 30-month alcohol-education program.
Lane released a solo album, "Back Down to One", in 2003, but shortly after was admitted to a rehab center for alcohol and drug-related exhaustion. He also appeared on VH1's reality series "Celebrity Fit Club".
Prior to serving time in jail for his most recent legal troubles, Lane issued a statement in which he said, in part, "My true hope is that anyone out there dealing with personal problems... the consequences do not get lighter. I can only say I've never regretted a good decision or action and never been proud of bad ones. People have an astounding ability to forgive... I have to start with forgiving myself. That is something that I find far more difficult than I imagined. I think it starts with gratitude."
When asked in a May 18, 2009 interview with "The Johnny Dare Morning Show" how he managed to "get straight," Jani replied, "It's just a matter of deciding you're done, in my opinion. I mean, that probably oversimplifies it, but really, really and truly you have to go, 'You know what? I'm done with this. I don't like feeling like this, I don't like living like this.' And it's also nice to get the creativity back, which is impossible to flow when you're unconscious."