NFL Star and 'Police Academy' Actor Bubba Smith Found Dead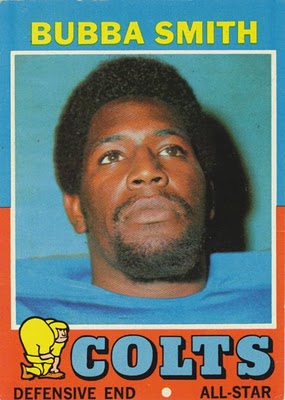 posted 2011-08-03 20:09:38 by DaveM





The former NFL defensive end and tackle for the Baltimore Colts, Oakland Raiders and Houston Oilers was 66. Officials believe he died of natural causes.
Smith's body was found on Wednesday at his home in the Baldwin Hills suburb of Los Angeles, said Los Angeles police spokesman Officer Gregory Baek.
He is believed to have died of natural causes, but the coroner's office has not made a final determination, police said.
Smith played for Michigan State University and entered the National Football League when he was drafted by the Baltimore Colts in 1967.
Aside from winning a Super Bowl with the Colts in 1971, Smith also went on to play with the Oakland Raiders and the Houston Oilers before he retired in 1976, after being twice selected to the Pro Bowl.
After retiring, Smith appeared in small television roles before he gained fame in "Police Academy" for playing Moses Hightower, a police recruit who was as soft-spoken as he was physically imposing.
Smith, who stood 6 foot 7 inches, starred in the first six "Police Academy" films, and also appeared in several Miller Lite commercials in which he ripped off the tops of beer cans.