Pierre Salinger, Kennedy Aide, Dies at 79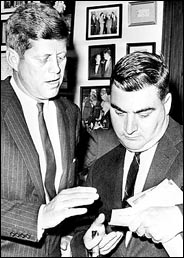 posted 2004-10-17 12:43:10 by stevemay





Pierre Salinger, the spokesman for the Kennedy White House who later became a European correspondent for ABC News, died yesterday at a hospital near his home in Le Thor, France. He was 79.
Mr. Salinger had been in declining health for four years and died of heart failure, said a longtime associate, Elizabeth Bagley, an ambassador to Portugal under President Bill Clinton. Ms. Bagley said she learned of Mr. Salinger's death from his wife, Nicole, the operator of a bed-and-breakfast in Le Thor, in Provence.
Mr. Salinger, a native of San Francisco who was regarded as a child prodigy on the piano, spent the early years of his career as a print journalist, working for The San Francisco Chronicle and as a contributing editor for Collier's magazine. His research in 1956 for articles on James Hoffa led him to a close association with Robert F. Kennedy, who hired Mr. Salinger as a legal counsel for the Senate Select Committee investigating organized crime.
At Mr. Kennedy's urging, Mr. Salinger became press secretary to John F. Kennedy, who was then a member of the Senate. Mr. Salinger worked on Kennedy's presidential campaign in 1960, and was appointed White House press secretary after the election.
Mr. Salinger's appointment came as the pervasive influence of television was becoming clear in politics and world affairs, and he assumed an unusually powerful role for a press secretary. He accompanied Kennedy to conferences with other world leaders, including the 1961 meeting with Khrushchev in Vienna, and was dispatched by the president to Moscow the following year to confer directly with Soviet leaders.
An affable cigar smoker, Mr. Salinger demonstrated an ability throughout his career to engage a broad spectrum of personalities on the world stage. It was an ability that served him well when he returned to journalism as a television correspondent.
"He had the biggest network of people I have ever seen," said Ms. Bagley, who worked under Mr. Salinger as an ABC News producer in 1980. "It was simply amazing what he could find out because he knew so many people."
After Kennedy was assassinated in 1963, Mr. Salinger continued as White House press secretary for several months under President Lyndon B. Johnson.
He resigned in 1964 to run for the Senate from California. After winning the Democratic primary, he was appointed to fill the Senate seat when Senator Claire Engle died. But Mr. Salinger was defeated in the 1964 general election by George Murphy, a Republican.
Mr. Salinger, whose mother was a native of France, and who had been fluent in French since childhood, spent much of the next 30 years as a journalist in France and England. His first post in France was as a correspondent for L'Express, the French magazine. He then became a French correspondent and later Paris bureau chief for ABC News.
As a television newsman, Mr. Salinger delivered months of detailed reporting on the Iranian hostage crisis of 1979 and 1980, and on the release of the American hostages.
The latter days of his career took a strange turn, however, when Mr. Salinger claimed to have a secret document showing that "friendly fire" from a United States Navy ship was responsible for the downing of Trans World Airlines Flight 800 off Long Island in 1996. The claims were widely publicized and immediately disputed by federal authorities. The document turned out to be an Internet posting that had been long discredited by the Federal Bureau of Investigation.