Former Yankee Hideki Irabu found dead, suicide suspected.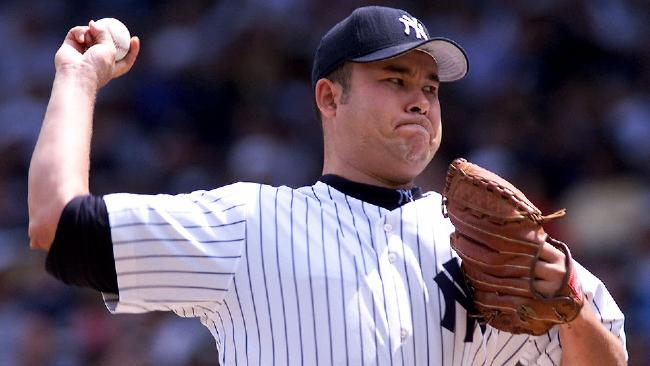 posted 2011-07-28 20:05:56 by jeffjones





Former New York Yankees starter Hideki Irabu was found dead in the wealthy Los Angeles suburb of Rancho Palos Verdes Thursday.
Irabu, 42, was discovered at 4:25 p.m. PDT Wednesday, county sheriff's Sgt. Michael Arriaga told the Associated Press. He was found dead by an apparent suicide," he said.
Irabu began his career in Japan, but the San Diego Padres purchased his contract from the Chiba Lotte Marines of the Japan Pacific League in January of 1997. Those rights then were traded to the New York Yankees that May.
A star in his native country, Irabu was hailed as the "Japanese Nolan Ryan." But, in part because of weight issues, he failed to live up to lofty expectations with the Yankees.
In his rookie season in 1997, Irabu went 5-4 with a 7.09 ERA in 13 games (nine starts) for New York. In three seasons with the Yankees, he was 29-20 with a 4.80 ERA in 74 games (64 starts). Irabu had his best season in 1998, when he went 13-9 with a 4.06 ERA.
In 1999, Yankee owner George Steinbrenner infamously referred to Irabu as a fat toad after the pitcher was late covering first base during the team's final spring training game. Steinbrenner apologized a few days later, but the label stuck.
In the final episode of the popular sitcom "Seinfeld" in 1998, Irabu's struggles with the Yankees were satirized when the character Frank Costanza, played by Jerry Stiller, angrily shouted at the Steinbrenner character, "How could you spend $12 million on Hideki Irabu?"
Irabu was dealt from the Yankees to the Montreal Expos in December of 1999 and released by the Expos in September 2001.
He finished his major league career with the Texas Rangers in 2002.
In six major league seasons, Irabu was 34-35 with a 5.15 ERA in 126 games (80 starts).
He was arrested and charged with drunk driving in California in May 2010.