ANAL C**T Frontman SETH PUTNAM Dead At 43 - June 11, 2011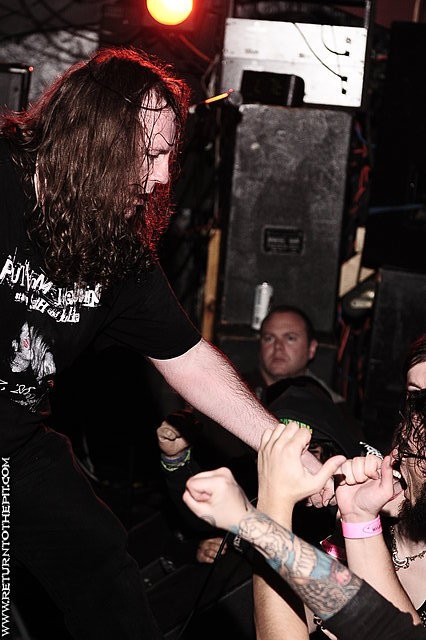 posted 2011-06-12 22:55:52 by Grendel





ANAL CUNT's publicist, Kim Kelly of Catharsis PR, has confirmed via Twitter that the band's frontman, Seth Putnam, died earlier today (Saturday, June 11) of a suspected heart attack. He was 43 years old.
Commented Kelly: "Yes, it's true. Seth Putnam, one of the most infamous musicians that extreme metal has ever seen, the grindcore GG Allin, has passed away due to a heart attack.
"I handled all the promotion for ANAL CUNT's last album, 'Fuckin' A', and Seth was always happy to oblige any request I sent his way. The band had been working on a new album before his passing, so chances are his musical career's epitaph has yet to be inscribed.
"I want to remind everyone that no matter how outrageous and controversial his musical career has been, Seth was still a human being with friends and family that loved him. I'm hoping that the Internet will remember that. This is a very sad and trying time for those that knew him, and the last thing they need to see is an outpouring of message board hate. The man lived and died by his own rules; if anything, respect him for that."
Putnam was known for his brutal screaming and lyrics that either shock, offend, or invoke morbid humor. Throughout his career, Putnam was involved in many side projects, including providing backing vocals on PANTERA's "The Great Southern Trendkill" album.
Putnam was born on May 15, 1968, in or around Boston, Massachusetts to father Edward R. Putnam and mother Barbara Ann Donohue. Both he and his parents are divorced.
In the mid-1980s, Putnam played bass in the thrash metal band EXECUTIONER.
On October 12, 2004, Putnam was hospitalized after ingesting two months' worth of Ambien sleeping pills. It was reported that he spent the previous day contemplating suicide, although exact circumstances surrounding the drug overdose are vague.
Putnam's reaction to the irony of his having been in a coma after previously writing the song "You're In A Coma" was published in the Boston Phoenix. "Actually, it turned out it was just as gay as the song I wrote nine years ago — being in a coma was just as fuckin' stupid as I wrote it was," he was quoted as saying.