Leonard B. Stern, Creator of Mad Libs, Dies at 88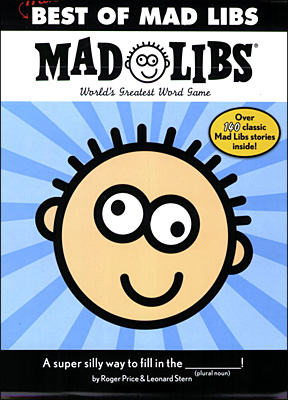 posted 2011-06-10 08:50:11 by grendel





Leonard B. Stern, an Emmy-winning writer, producer and director for television whose frantic search for an adjective one day led him and a colleague to create Mad Libs, the game that asks players to fill in blanks with designated parts of speech to yield comically ________[adj.] stories, died on Tuesday at his home in Beverly Hills, Calif. He was 88.
His death, of heart failure, was announced by his publicist, Dale Olson.
As a writer, Mr. Stern received two Emmy Awards, in 1957 for "The Phil Silvers Show" (a k a "Sergeant Bilko") and in 1967 for "Get Smart," on which he also served as executive producer.
Like Mr. Stern, Mad Libs — bound tablets of stories with blanks in strategic places — has a show-business pedigree. First marketed in 1958, it was born by way of "The Honeymooners" and introduced on "The Steve Allen Show."
Mankind has been playing with language for as long as there has been language, and Mad Libs is assuredly not the first game of its ilk. In 2007, NPR reported on an Edwardian precursor called "Revelations of My Friends." A slim volume published in London, it contained a set of stories, each masked with an overleaf. Players wrote designated words ("Place," "Colour," "Well-known person") through cutouts in the overleaf, then lifted it to reveal the completed story.
But Mad Libs is undoubtedly the first such game to attain wide commercial success. Now comprising 120 volumes, the series has sold more than 150 million copies, according to its publisher, Price Stern Sloan, an imprint of the Penguin Young Readers Group. Since 2008, more than two million Mad Libs apps, which let the game be played on iPhones and iPads, have been downloaded.
A children's game show based on Mad Libs was broadcast on the Disney Channel in the late 1990s.
Mad Libs was conceived in 1953, when Mr. Stern was writing a script for "The Honeymooners." As he recounted in interviews afterward, he was casting about for a particular word. His friend Roger Price, a humor writer, happened by.
"I need an adjective," Mr. Stern said.
Mr. Price obligingly supplied two: "clumsy" and "naked."
Mr. Stern laughed out loud. The word was intended to describe the nose of Ralph Kramden's boss.
The men realized they had a commodity. But no one would touch it: Mad Libs was too gamelike for book publishers and too booklike for game manufacturers. So in the late 1950s they published it themselves, storing the first printing — 14,000 copies — in the dining room of Mr. Price's Manhattan apartment. He ate standing up for the next several months.
By this time, Mr. Stern was a writer for "The Steve Allen Show." He persuaded Mr. Allen, who adored wordplay, to use Mad Libs to introduce his guests, with audience members furnishing the missing words.
"Steve would ask the audience for a noun, or an adjective," Mr. Stern told The Washington Post in 1994. "I'll never forget: 'And here's the scintillating Bob Hope, whose theme song is "Thanks for the Communist." ' "
With that, Mad Libs sold ________[adv.], like hotcakes. A friend, Larry Sloan, joined the partners in the early 1960s to form Price Stern Sloan.
Leonard Bernard Stern was born in Manhattan on Dec. 23, 1922, and studied at New York University.
After an early marriage that ended in divorce, he wed Gloria Stroock, an actress. She survives him, as do their children, Michael and Kate Stern; two grandchildren; and a great-grandchild. Mr. Price died in 1990.
Mr. Stern was a creator or co-creator of several television series, including "I'm Dickens, He's Fenster," "Run Buddy Run" and "He & She."
He also created, directed and wrote for the hit Rock Hudson-Susan Saint James series, "McMillan & ________[noun]."