Former Steelers running back John Henry Johnson dies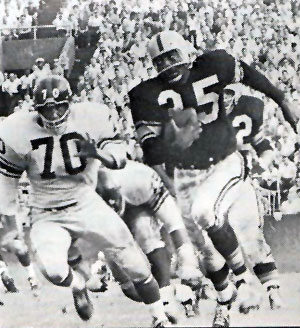 posted 2011-06-04 22:09:44 by stevemay





Pro Football Hall of Fame running back John Henry Johnson, who was the Steelers all-time leading rusher until Franco Harris came along, died Friday in Tracy, Calif. He was 81.
Inducted into the Hall of Fame in Canton, Ohio, in 1987, Johnson had many of his best seasons of his 14-year NFL career with the Steelers.
The Steelers released the following statement:
"We are deeply saddened by the death of John Henry Johnson. He was one of the Steelers' great running backs, evident by being the team's first 1,000-yard rusher in 1962. Also known for being one of the greatest blocking backs of his era, John Henry was one of the first in a long line of Steelers' Hall of Famers. The entire Steelers organization sends its condolences to the Johnson family for the loss of one of the great players in team history."
Johnson rushed for 1,000 again in 1964. And while he was with the team for just six seasons (1960-65) Johnson is still fourth on the Steelers' all-time rushing list with 4,383 yards. Only Harris, Jerome Bettis and Willie Parker have rushed for more yardage for the Steelers.
Originally drafted by the Steelers in 1953, Johnson played a year in the Canadian Football League and then three seasons with the San Francisco 49ers (1954-56) where he was part of the "Million Dollar Backfield" that included Joe Perry, Hugh McElhenny and quarterback Y.A. Tittle.
"I was deeply saddened to hear of John Henry Johnson's passing," said 49ers Owner and Co-Chairman John York. "He was a good friend, not only to my family and me, but the entire 49ers organization. As a member of "The Million Dollar Backfield" he holds a cherished place in both 49ers and NFL history. His contributions to the game of football will be forever celebrated. Our heartfelt sympathy goes out to the entire Johnson family."
He was traded to the Detroit Lions and was there from 1957-59 before coming to the Steelers in 1960. He played for the American Football League Houton Oilers in 1966 before retiring.
When he retired, Johnson was fourth on the NFL's all-time rushing list with 6,803 yards and trailed only Jim Brown, Jim Taylor and Perry. He also caught 186 passes for 1,478 yards and scored 55 career touchdowns.